Description
*This is included with the Altair-duino Pro kit.
This is the kit for the I/O Expansion Update normally included with the "Altair-Duino Pro kit". It includes the custom circuit board, all components, acrylic rear panel, and 9-pin null modem adapter. It will also include the latest I/O Expansion Module Manual.
This emulates a VT100 serial terminal using a VGA monitor and USB keyboard.  It also has a TTL to RS232 converter. You can configure the board to connect a 9-pin serial device to the VT100 emulator.
This was originally designed to be used with the version 1.5 and later Altair-Duino main board. However, it can be used for other purposes by an intrepid maker. If that is you, here are some things you may want to know:
The 14-pin connector "pin-out":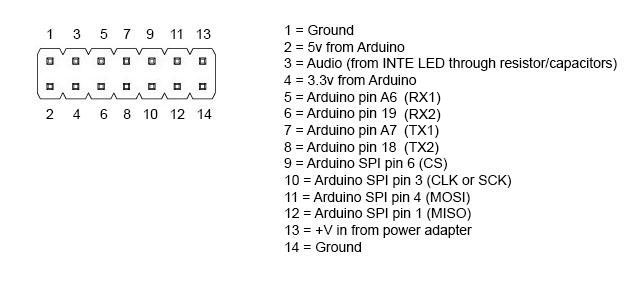 RX1/TX1 (Arduino pins 18/19) are wired to the PIC32 for VT100 emulation.
RX2/TX2 (Arduino pins A6/A7) are wired to the SP3232 for DB9 serial.
The "Test Input" can also be used to provide a connection to the PIC32.  All inputs are TTL-voltage compatible.
You can power the board via the USB connector or supply 5v on connector P2.  If you provide power to the board through any method other than the Altair-Duino main board, you will want the "3v Selector" jumper set to "INT" (3.3v will then be provided by the MCP1700 voltage regulator.)
Here are the baud rate settings for the VT100 emulator using the "baud rate" jumpers: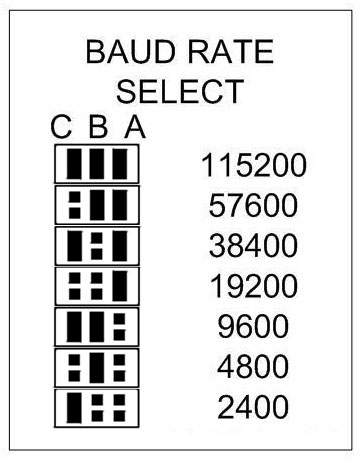 Download the manual (above) for more features of this VT100 emulator.
A WORD OF WARNING: There is a jumper on the board to allow powering it as a stand-alone device from the barrel connector. This power is connected directly to the USB port, and is intended for regulated 5v. If you connect any other power supply (such as the 9v power supply included with the Altair-Duino kit) with this jumper enabled, it WILL fry your USB keyboard. You have been warned!
Additional information
| | |
| --- | --- |
| Shipping Weight | 6 oz |
| Shipping Dimensions | 8 × 5 × 1.5 in |